Podcast: Play in new window | Download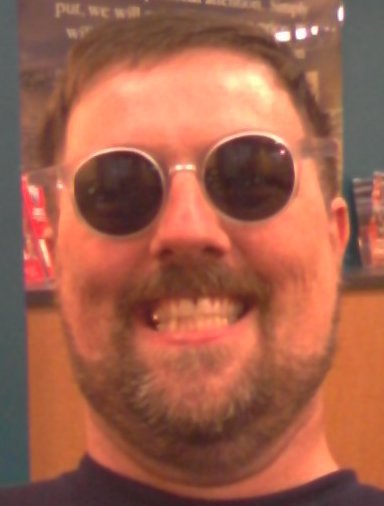 This is a special episode that I recorded with The Righteous Dude from The Dudecast at therighteousdude.podomatic.com.
We had a great discussion titled "The Devil Made Me Do It! Or, did he?".  Usually The Righteous Dude likes to have guest hosts that disagree with him and like to have intellegent debates while drinking "ice cold beverages".  But he and I both agree on this subject, and we still manage to talk for over an hour about it.
I would like to thank The Righteous Dude for having me on his show.  It was the first time I was a guest on another podcast and I had a lot of fun.
Please call our show and suggest a topic or ask a question at 206-338-4351 or email us at asg4cm@gmail.com.
Just to be a graceous guest, I am pasting The Righteous Dudes shownotes so that all the credit goes to whom it belongs:
Welcome, Dudes! Here we are at Episode 9! This time, I am joined by my friend, and fellow Christian podcaster, Brian Keith Caruthers. He has, or is part of, 3 different podcasts:
A Survival Guide for Christian Men at http://asg4cm.wordpress.com/
The P B and J Show athttp://thepbandjshow.wordpress.com/
and http://joeysclubhouse.wordpress.com/
We talk at length about the truth and/or myth of "The Devil Made Me Do It".
I'm surprised it lasted as long as it did, because we both agree. Shouldn't have had much to say, but I can talk a LOT!
Thanks to Brian for coming on!
I mentioned Jake Bible
The Righteous Dude now has VOICEMAIL!!! Call the Dudemail line at:
512-537-6788
Leave me a message!
The show is also now on iTunes! Just search for The Righteous Dude Dudecast.
The Righteous Dude's email is:
righteousdude@ymail.com
The Righteous Dude is now on Twitter and Facebook!
Twitter is @dudecast
and Facebook is Righteousdude Dudecast.
Links:
Online Bible with just about any translation you want:
http://bible.cc/
Closing music by Dan-O. Hear Dan-O's music at:
www.danosongs.com
This episode recorded and edited with Nero Wave Editor:
http://www.nero.com
The Righteous Dude mixed this episode with Audacity:
http://audacity.soundforge.net
File conversion by Switch Sound File Converter:
http://www.nch.com.au/switch/index.html
The P B and J Network™, The P B and J Show™, A Survival Guide 4 Christian Men™, ASG4CM™, Joey's Clubhouse™, Joey's Journey™ and The Sharp Shooter™ are all Trademarked names of Brian Caruthers